---
Continental VikingContact 7 is a directional winter tire with a studless tread, created by German developers for use in rough conditions of northern countries.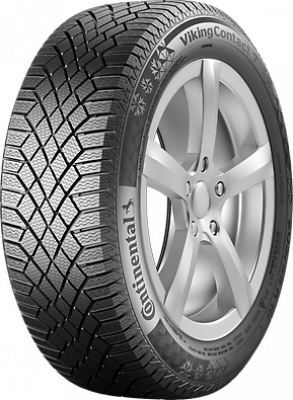 They are notable for their reliable grip on icy and snowy roads, as well as steering stability and braking efficiency on wet snow and wet asphalt. New for the 2018/2019 winter season.

Better performance
Friction tires for Scandinavian winters Continental VikingContact 7 came to replace the model Continental VikingContact 6, in comparison with which they received a number of improvements in terms of stability on snow and wet surface. The manufacturer claims that aquaplaning resistance of the new Viking has been improved by 7%, the length of braking distance in wet conditions was reduced by 6%, while controllability on ice and soft snow increased by 4%. In addition, handling on snow and dry roads showed a 2% improvement while rolling resistance was reduced by 3%.
Optimized tread design
Working on creation of Continental Viking Contact 7 developers abandoned optimization of asymmetric tread pattern of its predecessor and endowed the model with a new directional design. A grid of deep draining grooves ensures fast dispersion of melted snow and water in the contact zone and helps to improve the safety of these tires on wet and snow-covered roads.

To increase the stiffness of the soft tread, which is vital for the tire's precision and responsiveness to steering turns, the tread blocks are linked together by special "bridges", which improve grip stability when cornering and changing lanes.

Driving on ice and snow
When driving the Continental VikingContact 7 on ice and snow, 3D sipes come into play. These not only increase the edge effect but also create snow pockets that, when filled with snow, provide additional traction resulting from snow to snow friction.
On ice, the sharp edges of the three-dimensional blades create an effect similar to the action of antiskid spikes. By grappling with the top layer of ice, they increase acceleration and help shorten braking distances.

To enhance the tire's "sticking" to winter coatings, German engineers provided the presence of two types of blades - V-shaped in the center and U-shaped in the shoulder areas.
Innovative rubber ingredients
In addition to silicic acid (silica) the composition of VikingContact 7 rubber compound includes rapeseed oil. This ensures good low-temperature elasticity of the tread, allowing the tire to hold a firm grip in all weather conditions of northern winters.
The Continental VikingContact 7 is the perfect all-rounder for northern winters.
In this article, we use data collected from numerous daily driver reviews and professional automotive journalists' road tests. This guide shows computed data charts and information about VikingContact 7 performance in different road conditions.
VikingContact 7 scores:
Tire scores charts by drivers' reviews:
Overall:
65.6%
Overall Dry:
58.3%
Corner Stability:
65%
Dry Traction:
55%
Steering Response:
55%
Overall Wet:
50%
Wet Traction:
50%
Overall Snow:
80%
Ice:
70%
Overall Comfort:
95%
Wear:
50%
Buy again:
70%
Tire scores charts by road tests:
Overall:
75.6%
Dry Braking:
73.81%
Subj. Dry Handling:
37.8%
Wet Braking:
46.43%
Wet Handling:
44.35%
Subj. Wet Handling:
90.48%
Straight Aquaplaning:
12.5%
Snow Braking:
100%
Snow Handling:
93.75%
Subj. Snow Handling:
100%
Snow Traction:
100%
Ice Braking:
62.2%
Ice Handling:
85.71%
Subj. Ice Handling:
85.71%
Ice Traction:
43.45%
Inside Noise level:
100%
Rolling Resistance:
80.95%
Continental VikingContact 7 test results:
2020 Nordic and Studded Winter tire Test
Overall: 6th of 21
Dry Braking: 12th of 21
Subj. Dry Handling: 14th of 21
Wet Braking: 13th of 21
Wet Handling: 6th of 21
Subj. Wet Handling: 3rd of 21
Snow Braking: 1st of 21
Snow Handling: 1st of 21
Subj. Snow Handling: 1st of 21
Snow Traction: 1st of 21
Ice Braking: 9th of 21
Ice Handling: 7th of 21
Subj. Ice Handling: 4th of 21
Ice Traction: 9th of 21
Inside Noise level: 1st of 21
Rolling Resistance: 5th of 21
2019 Studded Winter tire Test
Overall: 3rd of 8
Dry Braking: 1st of 8
Subj. Dry Handling: 6th of 8
Wet Braking: 5th of 8
Wet Handling: 8th of 8
Straight Aquaplaning: 8th of 8
Snow Braking: 1st of 8
Snow Handling: 2nd of 8
Snow Traction: 1st of 8
Ice Braking: 4th of 8
Ice Handling: 1st of 8
Ice Traction: 7th of 8
Tire related video:
References: