---
The General Tire Grabber X3 is an off-road-oriented tire for true off-roaders and light trucks. It is characterized by excellent traction properties and high cross-country ability on mud, rocky terrain and sand. According to the manufacturer, it is a real road tire, unlike the predecessor General Grabber.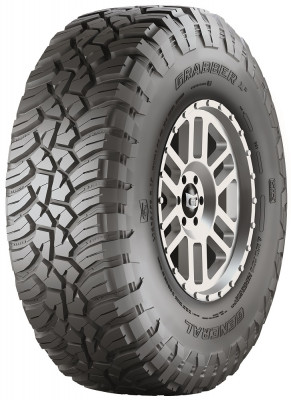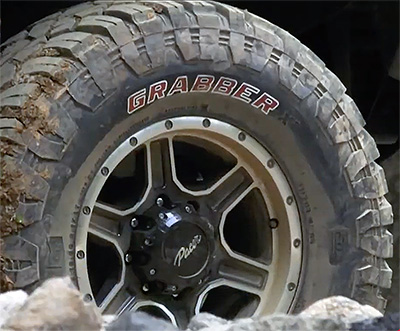 History of R&D
The General Tire Grabber X3 tires were introduced in 2016. It took Continental engineers three years to develop them, during which sixteen different tread options were considered in the hope of providing maximum traction on off-road terrain.
The manufacturer conducted 500 hours of off-road tire testing at its test track in Yuvalde, Texas, USA, tested more than 1,000 Grabber X3 prototypes and invested more than 20,000 man-hours in testing. In total, the model has undergone more than three million miles of testing and has been approved by test pilots.
Tread Design
The General Grabber X3 tires have an aggressive tread pattern and powerful "muscular" shoulders that provide additional capabilities when driving on full off-road. For good stability in mud, the tire has a high-cavity tread pattern that includes large, self-cleaning mud evacuation channels.
Special stone-removing rims prevent stones from getting stuck between the tread blocks when driving on gravel. They also minimize tire damage from various mechanical damages, and increase puncture resistance.
In order for the General Grabber X3 to move easily on rocky terrain, the edges of its tread blocks are placed at different angles, which provides reliable traction in all directions. In addition, special side beads help protect the tire structure from damage, as well as increase the traction capabilities of the sidewalls and shoulder section of the tire.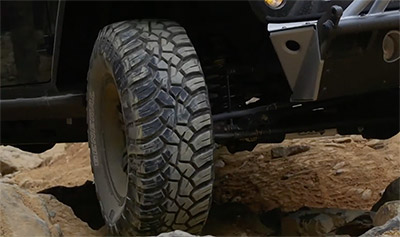 The style of the model sidewalls is emphasized by black lettering, and some sizes are available with red lettering. All sizes of the General Grabber X3 model have a three-layer construction and a tread pattern that promotes acoustic comfort in the interior of an off-road vehicle.
For fans of less extreme off-road riding, the General brand has the General Tire Grabber AT3 model in stock.
In this article, we use data collected from numerous daily driver reviews and professional automotive journalists' road tests. This guide shows computed data charts and information about Grabber X3 performance in different road conditions.
Grabber X3 scores:
Tire scores charts by drivers' reviews:
Overall:
91%
Overall Dry:
90%
Corner Stability:
88%
Dry Traction:
94%
Steering Response:
87%
Overall Wet:
89%
Aquaplanning:
90%
Wet Traction:
89%
Overall Snow:
88%
Light Snow:
91%
Heavy Snow:
93%
Ice:
80%
Overall Comfort:
84%
Ride Comfort:
89%
Overall Noise:
80%
Wear:
87%
Overall Off-road:
92%
On Dirt:
97%
On Sand:
90%
On Mud:
93%
On Rock:
90%
Tire scores charts by road tests:
Overall:
40%
Dry Braking:
60%
Dry Handling:
20%
Subj. Dry Handling:
20%
Dirt Handling:
20%
Wet Braking:
40%
Wet Handling:
20%
Subj. Wet Handling:
40%
Straight Aquaplaning:
100%
Snow Braking:
20%
Snow Handling:
20%
Subj. Snow Handling:
20%
Snow Traction:
20%
Ice Braking:
40%
Inside Noise level:
20%
Subjective Comfort:
30%
Rolling Resistance:
40%
Mud Performance:
100%
Gravel Handling:
80%
Subj. Dirt Handling:
20%
Subj. Gravel Handling:
100%
Tyre Weight:
40%
General Grabber X3 test results:
HT vs AT vs MT vs Winter tires on Snow
Overall: 4th of 5
Snow Braking: 5th of 5
Snow Handling: 5th of 5
Subj. Snow Handling: 5th of 5
Snow Traction: 5th of 5
Ice Braking: 4th of 5
Inside Noise level: 5th of 5
Subjective Comfort: 5th of 5
What's the best type of tire for your SUV or Pickup truck? HT, AT and MT compared and tested
Overall: 4th of 5
Dry Braking: 3rd of 5
Dry Handling: 5th of 5
Subj. Dry Handling: 5th of 5
Dirt Handling: 5th of 5
Wet Braking: 4th of 5
Wet Handling: 5th of 5
Subj. Wet Handling: 4th of 5
Straight Aquaplaning: 1st of 5
Subjective Comfort: 4th of 5
Rolling Resistance: 4th of 5
Mud Performance: 1st of 5
Gravel Handling: 1st of 5
Subj. Dirt Handling: 5th of 5
Subj. Gravel Handling: 1st of 5
Tyre Weight: 4th of 5
Tire related video:
References: