---
The Hankook Ventus S1 evo 3 is the latest high-performance tire offered by the company, building on the success of previous models in the Ventus line. In 2005, Hankook introduced the first high-end ultra-high performance tread, the Ventus S1 evo, which received positive reviews and top test results in the international trade press. Its successor, the Ventus S1 evo 2, became the company's most successful tread, and it was also used as premium original equipment by leading German car manufacturers, such as Audi, BMW, Mercedes-Benz, and Porsche. The Ventus S1 evo 3 is based on DTM-proven technology, and it excels in terms of high steering precision and excellent handling. Hankook has also improved this tire with features that address environmental properties, such as rolling resistance and durability.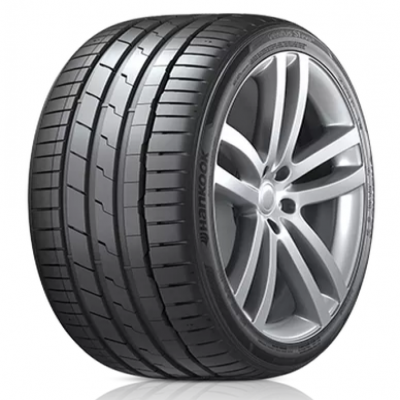 The Hankook Ventus S1 evo 3 is a high-performance tire that is manufactured using the latest generation of innovative materials through continuous basic research. The compounding experts at Hankook have optimized the driving characteristics of the Ventus S1 evo 3 on wet and dry roads by using high-performance natural resins in the tread compound. This not only increases the grip level at the peak of performance output, but the tire also remains at this grip level across a significantly larger range of temperatures, resulting in a very wide threshold range.
The tread compound of the Ventus S1 evo 3 is made from a high-grip full-silica compound and a special mixing technology for better distribution of polymers and filler material. This results in improved brake performance in wet conditions and a reduction in rolling resistance. A new type of compound for the tire's sidewall also contributes to this reduction, further lowering the rolling resistance of the Ventus S1 evo 3 by at least an additional 2.5%.
A new 0-degree cap ply made from aramid composite is used in the tire's construction to reduce the unwanted growth in rolling circumference at high and very high speeds (300 km/h and more) by up to 60% compared to traditional nylon-based fabrics. This provides the Ventus S1 evo 3 with better driving stability and a longer life due to lower heat generation. The cap ply also improves cornering forces by just over five per cent. Additionally, the use of 'hyper slants' in the center tread bar ribs and reinforced blocks of outer ribs in the asymmetric tread also increase cornering force and handling stability.
The pronounced outer tread groove within the special block design is a purely visual feature reminiscent of the distinctive first Ventus S1 evo design. This design, called the 'interlocking groove', in combination with the flow-optimized 4-channel design, effectively reduces aquaplaning and increases wet grip without causing any loss of performance on dry roads.
Hankook Ventus S1 evo 3 Tire Tests
According to recent tire tests, the Hankook Ventus S1 evo 3 has performed well in multiple categories, but also has some drawbacks.
In the 2022 Tyre Reviews 17 Inch Summer Tyre Test, the Ventus S1 Evo3 placed 3rd out of 9 tires. It received positive feedback for its extremely short wet braking distances, short dry braking, low noise, and safe handling balance. However, it also received negative feedback for its undynamic handling with high levels of understeer and poor feedback in both dry and wet conditions, as well as its higher rolling resistance. The overall conclusion from the test was that the tire has extremely high levels of safety and short braking distances, but it feels more like a touring tire than an ultra-high performance tire, so it may not be the best option for those looking for a sporty driving experience.
In the 2022 AutoBild Sports Cars UHP Summer Tyre Test, the Ventus S1 Evo3 placed 5th out of 11 tires. It received positive feedback for its balanced driving characteristics in both dry and wet conditions, short braking distances, low noise, low rolling resistance and low price. The negative comment is its limited curved aquaplaning resistance.
In the 2022 Auto Express SUV Tyre Test, the S1 Evo3 placed 2nd out of 7 tires. It performed well in wet and dry conditions, and had good handling, but again received negative feedback for its high rolling resistance.
Overall, the Ventus S1 evo 3 has received praise for its safety features and braking performance, but criticized for its handling and rolling resistance.
Drivers reviews
According to real drivers reviews, the Hankook Ventus S1 evo 3 tires have received positive feedback for its ride quality improvement, smoothness, grip and handling in both wet and dry conditions. Drivers also reported that these tires have good grip and have yet to trigger the ABS or lose grip, though the wear rate on front tire is higher and can be down to 2mm after just 19k miles. They also reported that the tire was quieter when first put on but since the Mazda3's are not the quietest cars, there is a lot of road noise coming through the cabin. Another driver stated that the tires have been fitted as standard on their Audi S3, and reported that they were surprised with its good grip in wet and dry conditions and low noise level. They have also been using it for 11000 miles and still have 4mm tread. They also compared it with other brands such as Pirelli, Dunlop and Michelins and found it to be good if not better than more expensive tires. A different driver bought these after using the evo2 and reported that they were impressed by its handling and performance, even on windy roads and in all conditions. They noticed some road noise but nothing significant and the wear looks to be within expectations for the road they drive on.
Conclusion
Pros:
Provides improved ride quality and smoothness
Offers good grip and handling in both wet and dry conditions
Short braking distances
Low noise
Low rolling resistance
Good price
Cons:
High wear rate on front tires
Limited curved aquaplaning resistance
Reported road noise
Some users reported understeer or poor feedback.
In this article, we use data collected from numerous daily driver reviews and professional automotive journalists' road tests. This guide shows computed data charts and information about Ventus S1 evo 3 performance in different road conditions.
Ventus S1 evo 3 scores:
Tire scores charts by drivers' reviews:
Overall:
78%
Overall Dry:
79.3%
Corner Stability:
71%
Dry Traction:
90%
Steering Response:
77%
Overall Wet:
87%
Wet Traction:
87%
Overall Comfort:
79%
Wear:
67%
Buy again:
75%
References: