---
The Hankook Winter i*cept evo2 W320, which had already been awarded the "Red Dot Design" award even before its official premiere, was specially developed for medium-class passenger cars, as well as expensive limousines and premium sports cars. The same model, adapted to the features of the popular category of vehicles Sport Utility Vehicle, is called Hankook Winter i*cept evo2 SUV W320A.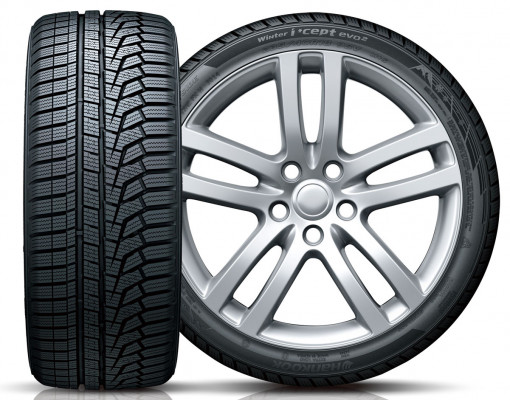 As the manufacturer asserts, these tires are up to any dangerous driving conditions in the form of snow, ice, frost, heavy rain and wet leaves on the road. This is due to the tire's advanced constructional features and the use of an optimized rubber compound containing high-dispersed silica, which greatly improve the tire's grip on snowy and wet roads.
Design
Asymmetric tread pattern of Hankook W320 and Hankook W320A provides excellent traction properties and increased braking efficiency on snow, slush and wet roads. Special 3D-lamellas "scattered" over all tread surface by limiting the block mobility increase driving stability in cold conditions, prevent abrasion and due to maximization of edge effect increase the tire general performance on winter surfaces.
Lateral X-shaped grooves on the inner part of the tread, which functionally resemble ice axes, improve traction on snowy roads. The optimal angle of these side grooves also increases the snow performance of the Winter i*cept evo2.
Radial grooves, located on the outer part of the tread, have 30% more cavities than existing analogues. It allows Hankook W320 Winter i*cept evo 2 tires to quickly drain water and snow slush from the contact area, with good resistance to aqua- and slushplaning, as a result, stable and easy driving on snowy and wet roads is provided.
Reinforced sidewalls and sidewalls, combined with wide shoulder areas and optimized tread beads, ensure quick and precise steering response and improved cornering traction.
We will also remember its predecessor, model Hankook Winter I*cept Evo W310, which was tested with pleasure by experts from a number of authoritative profile publications. The tire has never risen on the podium, but it consistently showed average results. Of course, it did not reach the indicators of premium car tires, but in its price range it was clearly one of the leading positions.
Availability
The Winter i*cept evo 2 and Winter i*cept evo 2 SUV winter tires are mainly produced at the Hankook factory in Hungary. They are currently available in different sizes: the passenger car version is available in sizes 16 to 20 inches with speed indexes H, V and W, while the off-road version is available in sizes 16 to 21 with speed indexes T to V.
In this article, we use data collected from numerous daily driver reviews and professional automotive journalists' road tests. This guide shows computed data charts and information about Winter i*cept evo2 SUV performance in different road conditions.
Winter i*cept evo2 SUV scores:
Tire scores charts by drivers' reviews:
Overall:
84.4%
Overall Dry:
80%
Corner Stability:
80%
Dry Traction:
90%
Steering Response:
70%
Overall Wet:
70%
Wet Traction:
70%
Overall Snow:
100%
Ice:
80%
Overall Comfort:
80%
Wear:
90%
Buy again:
100%
Tire scores charts by road tests:
Overall:
54.55%
Dry Braking:
67%
Dry Handling:
90.91%
Subj. Dry Handling:
54.55%
Wet Braking:
63.64%
Wet Handling:
45.45%
Subj. Wet Handling:
36.36%
Straight Aquaplaning:
27.27%
Snow Braking:
72.73%
Snow Handling:
90.91%
Subj. Snow Handling:
90.91%
Inside Noise level:
100%
Subjective Comfort:
90.91%
Rolling Resistance:
18.18%
Price:
72.73%
Hankook Winter i*cept evo2 SUV test results:
2019 AMS Winter SUV tire Test
Overall: 6th of 11
Dry Braking: 11th of 11
Dry Handling: 2nd of 11
Subj. Dry Handling: 6th of 11
Wet Braking: 5th of 11
Wet Handling: 7th of 11
Subj. Wet Handling: 8th of 11
Straight Aquaplaning: 9th of 11
Snow Braking: 4th of 11
Snow Handling: 2nd of 11
Subj. Snow Handling: 2nd of 11
Inside Noise level: 1st of 11
Subjective Comfort: 2nd of 11
Rolling Resistance: 10th of 11
Price: 4th of 11
References: