---
The Michelin CrossClimate SUV is an all-season tire released in 2018 for urban SUVs whose performance characteristics are optimized for use in the weather conditions of the winter months in countries with mild climates. Introducing the new "Summer+" marketing category, they can be considered a good option for year-round use.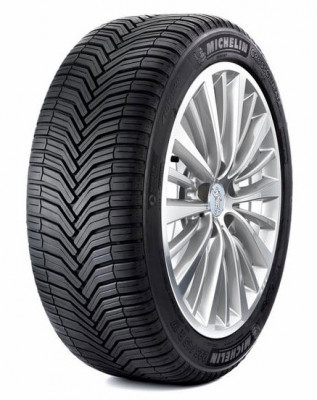 The Michelin CrossClimate SUV comes on the heels of the success of its passenger car version, the CrossClimate+, which managed to rack up a bouquet of prizes in European comparison tests in 2017.
The tread pattern and all-season rubber mixture of the Cross Climate SUV, as it is not difficult to guess, were inherited from the passenger car model. Changes have only affected the internal design, taking into account the peculiarities of heavy vehicles. The internal construction of the CrossClimate SUV consists of a single-layer polyester carcass with two steel breakers, which increases the strength of the tire and handling at high speeds.
The directional tread pattern of the Michelin CrossClimate SUV, with nearly continuous transverse ribs, offers steering stability and good dry traction. The centrally converging wide drainage grooves and open shoulder areas ensure fast drainage of the contact area and increase the tire's resistance to aquaplaning effects.
The Michelin CrossClimate SUV's grip edges, combined with a specialized compound, provide enough traction in the snow to earn it the 3PMSF (snowflake logo with three peaks in the background) label.
In this article, we use data collected from numerous daily driver reviews and professional automotive journalists' road tests. This guide shows computed data charts and information about CrossClimate SUV performance in different road conditions.
CrossClimate SUV scores:
Tire scores charts by drivers' reviews:
Overall:
82.2%
Overall Dry:
85.5%
Corner Stability:
82%
Dry Traction:
90.5%
Steering Response:
84%
Overall Wet:
89.5%
Aquaplanning:
96%
Wet Traction:
89.5%
Overall Snow:
83%
Light Snow:
92%
Heavy Snow:
86%
Ice:
77.5%
Overall Comfort:
86.5%
Ride Comfort:
90%
Overall Noise:
87%
Wear:
80.5%
Buy again:
76%
Tire scores charts by road tests:
Overall:
92.86%
Dry Braking:
100%
Dry Handling:
100%
Wet Braking:
70.71%
Wet Handling:
63.57%
Straight Aquaplaning:
78.57%
Snow Braking:
29.29%
Snow Handling:
80.71%
Snow Traction:
90%
Inside Noise level:
73.57%
Rolling Resistance:
77.86%
Price:
17.14%
Michelin CrossClimate SUV test results:
2019 Auto Bild 4x4 All Season tire Test
Overall: 1st of 10
Dry Braking: 1st of 10
Dry Handling: 1st of 10
Wet Braking: 4th of 10
Wet Handling: 4th of 10
Straight Aquaplaning: 1st of 10
Snow Braking: 8th of 10
Snow Handling: 2nd of 10
Snow Traction: 2nd of 10
Inside Noise level: 2nd of 10
Rolling Resistance: 4th of 10
Price: 9th of 10
2019 Auto Bild All Season SUV tire Test
Overall: 2nd of 7
Dry Braking: 1st of 7
Dry Handling: 1st of 7
Wet Braking: 3rd of 7
Wet Handling: 4th of 7
Straight Aquaplaning: 4th of 7
Snow Braking: 6th of 7
Snow Handling: 3rd of 7
Inside Noise level: 4th of 7
Rolling Resistance: 2nd of 7
Price: 7th of 7
References: