---
If you're in the market for a new set of tires, then Michelin CrossClimate 2 tires should be at the top of your list. These are all-season tires that can handle any type of driving condition, and they're available in various sizes to fit almost any vehicle.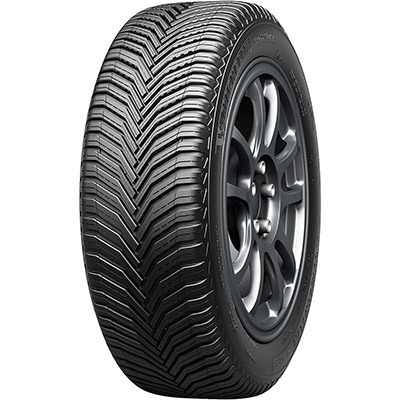 The Michelin CrossClimate2 is, as its manufacturer claims, "the most versatile and advanced tires Michelin has developed in the past two decades."
A brief history of new Michelin all-season tire
The Michelin CrossClimate 2 tires were introduced in 2021. They replaced the 2015 Michelin CrossClimate model, which was positioned as a summer tire at the time of its market launch, but approved for use on winter roads, which in fact made it a good all-season option.
It is also worth mentioning that Michelin CrossClimate 2 tires will replace the models CrossClimate+, CrossClimate SUV, Premier A/S, Premier LTX.
CrossClimate 2 thread design and tech
The new CrossClimate 2 tread pattern maintains the cross directionality and symmetry of its forerunner's design. The contact patch is drained more quickly and snow is removed more easily with a V-shaped surface, ensuring excellent stability on wet surfaces.
The MICHELIN CrossClimate 2 benefits from MICHELIN EverWinterGrip technologies, which are designed to improve the performance of the tire in winter:
Because of the grooves that are renewed as the tire wears, it has superior traction on snowy roads and superior grip.
The sipes have been redesigned with a more curved shape, which makes them more comparable to those of specialized winter tires. This is how the creators were able to improve the edge effect and traction of the Michelin Cross Climate 2 on light snow.
A higher proportion of silica and carbon black in the tire compound makes it able to cover all sorts of weather conditions.
First road tests
In dry braking tests, conducted by TÜV SÜD Product Service on Michelin's request between 100 and 0 kph on VW Golf 7 CrossClimate 2 scored 100% vs CrossClimate+ which scored 96,2%
In wet braking tests, conducted by TÜV SÜD Product Service on Michelin's request, between 80 and 20 kph on VW Golf 7 CrossClimate 2 scored 100% versus CrossClimate+ which scored 98,2%
In this article, we using data collected from numerous daily drivers reviews along with professional automotive journalists road tests. This guide shows computed data charts and information about CrossClimate 2 performance in different road conditions.
CrossClimate 2 scores:
Tire scores charts by drivers' reviews:
Overall:
84.1%
Overall Dry:
78%
Corner Stability:
67%
Dry Traction:
88%
Steering Response:
79%
Overall Wet:
89%
Wet Traction:
89%
Overall Snow:
90%
Ice:
82%
Overall Comfort:
89%
Wear:
86%
Buy again:
87%
Michelin CrossClimate 2 test results:
2021 Auto Bild SUV All Season tire Test
Overall: 2nd of 10
Dry Braking: 1st of 10
Wet Handling: 8th of 10
Snow Braking: 3rd of 10
Inside Noise level: 5th of 10
References:
Michelin website