Michelin Pilot Alpin 5 review
Updated on 2020-12-22
---
The Michelin Pilot Alpin 5 is a sporty directional tire for high-performance passenger vehicles, designed for intensive use during the coldest months of the year. They feature steering stability in snow, excellent maneuverability in dry conditions, and effective braking on wet asphalt, as well as ride comfort and optimum fuel consumption. New for the Winter 2017/18 season.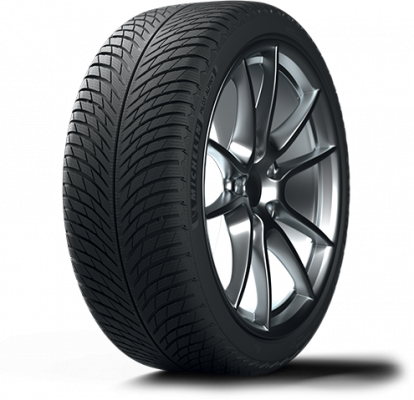 The Michelin Pilot Alpin PA5 studless tires replace the 2011 Pilot Alpin PA4. The asymmetric pattern of its predecessor was replaced by an asymmetric directional pattern - the "classics of the genre" for winter tires. This has improved the fifth-generation model's traction in wet and snowy conditions.
Michelin Pilot Alpin 5 tread design helps you confidently overcome snowy stretches of road, which is aided by the tire's negative profile, represented by numerous wide drainage grooves.
The Pilot Alpin 5's tread beads are dotted with a new type of lamellas, says TireWheelGuide's technical specialist. Their unique shape helps to reduce the deformation of blocks during high-speed driving, which, in turn, positively affects the vehicle's handling on winter surfaces.
In this article, we using data collected from numerous daily drivers reviews along with professional automotive journalists road tests. This guide shows computed data charts and information about Pilot Alpin 5 performance in different road conditions.
Pilot Alpin 5 scores:
Tire scores charts by drivers' reviews:
Overall:
88.4%
Overall Dry:
90%
Corner Stability:
92%
Dry Traction:
88%
Steering Response:
90%
Overall Wet:
95%
Wet Traction:
95%
Overall Snow:
88%
Ice:
80%
Overall Comfort:
83%
Wear:
88%
Buy again:
92%
Tire scores charts by road tests:
Overall:
100%
Dry Braking:
100%
Dry Handling:
97.5%
Subj. Dry Handling:
100%
Wet Braking:
80.96%
Wet Handling:
88.46%
Side G-Force on Wet surface:
76.92%
Straight Aquaplaning:
55.96%
Curved Aquaplaning:
76.92%
Snow Braking:
100%
Snow Handling:
80%
Snow Traction:
90%
Ice Braking:
92.31%
Ice Handling:
92.31%
Inside Noise level:
83.46%
Outdside Noise:
76.92%
Rolling Resistance:
70.96%
Price:
10%
Wear:
96.15%
Michelin Pilot Alpin 5 test results:
2020 Auto Bild Performance Winter tire Test
Overall: 1st of 20
Dry Braking: 1st of 20
Dry Handling: 2nd of 20
Wet Braking: 4th of 20
Wet Handling: 1st of 20
Straight Aquaplaning: 14th of 20
Snow Braking: 1st of 20
Snow Handling: 9th of 20
Snow Traction: 5th of 20
Inside Noise level: 3rd of 20
Rolling Resistance: 8th of 20
Price: 19th of 20
Wear: 1st of 20
2020 ADAC Winter tire Test - 235/55 R17
Overall: 1st of 13
Dry Braking: 1st of 13
Dry Handling: 1st of 13
Subj. Dry Handling: 1st of 13
Wet Braking: 4th of 13
Wet Handling: 4th of 13
Side G-Force on Wet surface: 4th of 13
Straight Aquaplaning: 4th of 13
Curved Aquaplaning: 4th of 13
Snow Braking: 1st of 13
Snow Handling: 1st of 13
Snow Traction: 1st of 13
Ice Braking: 2nd of 13
Ice Handling: 2nd of 13
Inside Noise level: 4th of 13
Outdside Noise: 4th of 13
Rolling Resistance: 4th of 13
Wear: 2nd of 13
References:
Michelin website