---
The Vredestein Wintrac Pro is a 2018 winter car tire with a directional tread design that was created with Italian design house Giugiaro for use on high-performance passenger cars.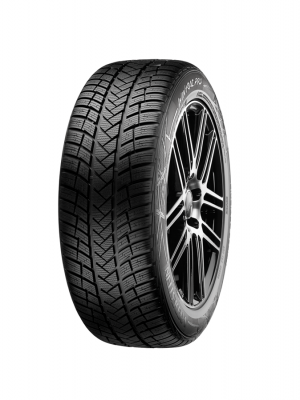 Better than before
The Vredestein Wintrac Pro tires replace the 2013 Vredestein Wintrac Xtreme S model. Internal tests of the manufacturer showed that in the size 225/50 R17 98V XL the new product of the winter season 2018/2019 surpasses its predecessor in a number of parameters. Thus, the handling on snow became 15% better, and the braking efficiency on wet surfaces was improved by 10%. In addition, the speed index Y (up to 186 mph) has become available for many sizes of the model range.
Wintrac Pro Tread design
The Wintrac Pro features an optimized tread pattern with deep, centrally converging grooves and three-dimensional sipes that stabilize the tire's behavior on snow, especially when cornering. Horizontal sipes in the center of the tread improve directional stability and acceleration, as well as reducing braking distances.
The Vredestein Wintrac Pro's wide tread creates a stable flat contact patch with the road surface, which is very important under high loads.
Special polymers and high silica content in the tread compound improve handling and braking on wet pavement, snow, and ice.
The Three Peak Mountain Snow Flake (3PMSF) pictogram ensures that the Vredestein Wintrac Pro's performance meets acceptable requirements for use on snowy roads.
In this article, we use data collected from numerous daily driver reviews and professional automotive journalists' road tests. This guide shows computed data charts and information about Wintrac Pro performance in different road conditions.
Wintrac Pro scores:
Tire scores charts by drivers' reviews:
Overall:
88.6%
Overall Dry:
86.7%
Corner Stability:
82.5%
Dry Traction:
91%
Steering Response:
86.5%
Overall Wet:
91%
Aquaplanning:
86%
Wet Traction:
91%
Overall Snow:
94%
Light Snow:
88%
Heavy Snow:
81%
Ice:
88.5%
Overall Comfort:
89%
Ride Comfort:
90%
Overall Noise:
86%
Wear:
84%
Buy again:
91%
Tire scores charts by road tests:
Overall:
76.07%
Dry Braking:
86.45%
Dry Handling:
74.63%
Subj. Dry Handling:
96.15%
Wet Braking:
80.96%
Wet Handling:
88.12%
Subj. Wet Handling:
100%
Side G-Force on Wet surface:
76.92%
Straight Aquaplaning:
66.91%
Curved Aquaplaning:
76.92%
Snow Braking:
42.58%
Snow Handling:
54.13%
Subj. Snow Handling:
36.36%
Snow Traction:
43.72%
Ice Braking:
92.31%
Ice Handling:
92.31%
Inside Noise level:
54.12%
Outdside Noise:
61.54%
Subjective Comfort:
36.36%
Rolling Resistance:
31.08%
Price:
45.82%
Wear:
68.21%
Vredestein Wintrac Pro test results:
2020 Auto Bild Performance Winter tire Test
Overall: 12th of 20
Dry Braking: 2nd of 20
Dry Handling: 7th of 20
Wet Braking: 6th of 20
Wet Handling: 5th of 20
Straight Aquaplaning: 9th of 20
Snow Braking: 9th of 20
Snow Handling: 14th of 20
Snow Traction: 14th of 20
Inside Noise level: 13th of 20
Rolling Resistance: 20th of 20
Price: 14th of 20
Wear: 11th of 20
2020 Auto Bild SUV Winter tire Test
Overall: 3rd of 10
Dry Braking: 1st of 10
Dry Handling: 6th of 10
Wet Braking: 2nd of 10
Wet Handling: 1st of 10
Straight Aquaplaning: 4th of 10
Snow Braking: 7th of 10
Snow Handling: 6th of 10
Snow Traction: 6th of 10
Inside Noise level: 4th of 10
Rolling Resistance: 8th of 10
Price: 6th of 10
2019 19 Inch Performance Winter tire Test
Overall: 2nd of 11
Dry Braking: 5th of 11
Dry Handling: 4th of 11
Wet Braking: 4th of 11
Wet Handling: 2nd of 11
Straight Aquaplaning: 2nd of 11
Snow Braking: 8th of 11
Snow Handling: 2nd of 11
Inside Noise level: 7th of 11
Rolling Resistance: 10th of 11
Price: 7th of 11
2019 Auto Bild Winter 17 inch tire Test
Overall: 6th of 20
Dry Braking: 2nd of 20
Dry Handling: 3rd of 20
Wet Braking: 4th of 20
Wet Handling: 3rd of 20
Straight Aquaplaning: 13th of 20
Snow Braking: 18th of 20
Snow Handling: 15th of 20
Inside Noise level: 14th of 20
Rolling Resistance: 17th of 20
Price: 15th of 20
Wear: 7th of 20
2019 Winter tire Test Market Overview
Overall: 6th of 53
Wet Braking: 4th of 53
Snow Braking: 20th of 53
2019 AMS Winter SUV tire Test
Overall: 3rd of 11
Dry Braking: 4th of 11
Dry Handling: 4th of 11
Subj. Dry Handling: 1st of 11
Wet Braking: 4th of 11
Wet Handling: 2nd of 11
Subj. Wet Handling: 1st of 11
Straight Aquaplaning: 5th of 11
Snow Braking: 8th of 11
Snow Handling: 4th of 11
Subj. Snow Handling: 8th of 11
Inside Noise level: 4th of 11
Subjective Comfort: 8th of 11
Rolling Resistance: 8th of 11
Price: 5th of 11
2020 ADAC Winter tire Test - 235/55 R17
Overall: 5th of 13
Dry Braking: 2nd of 13
Dry Handling: 2nd of 13
Subj. Dry Handling: 2nd of 13
Wet Braking: 4th of 13
Wet Handling: 4th of 13
Side G-Force on Wet surface: 4th of 13
Straight Aquaplaning: 4th of 13
Curved Aquaplaning: 4th of 13
Snow Braking: 8th of 13
Snow Handling: 8th of 13
Snow Traction: 8th of 13
Ice Braking: 2nd of 13
Ice Handling: 2nd of 13
Inside Noise level: 6th of 13
Outdside Noise: 6th of 13
Rolling Resistance: 4th of 13
Wear: 3rd of 13
2020 ACE Winter tire Test
Overall: 8th of 9
Dry Braking: 5th of 9
Dry Handling: 5th of 9
Subj. Dry Handling: 5th of 9
Wet Braking: 5th of 9
Wet Handling: 5th of 9
Side G-Force on Wet surface: 5th of 9
Straight Aquaplaning: 5th of 9
Curved Aquaplaning: 5th of 9
Snow Braking: 6th of 9
Snow Handling: 6th of 9
Snow Traction: 6th of 9
Inside Noise level: 5th of 9
Rolling Resistance: 5th of 9
References: