---
Yokohama ADVAN Sport V105 is the flagship of the Japanese tire manufacturer. It is a premium model designed for summer use on powerful sports cars. It features perfectly balanced characteristics both on dry and wet surfaces, stable light handling, maneuverability, and comfort.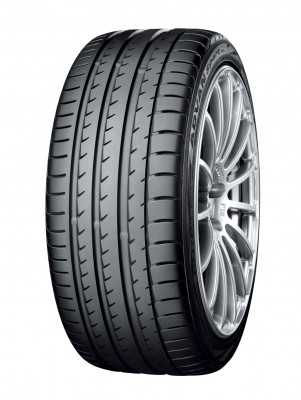 Yokohama ADVAN Sport V105 tires came to replace ADVAN Sport V103 model in 2012. Its appearance was preceded by an entrenched trend on the market, which requires a premium car tire with high-speed capabilities and increased comfort. The development of the V105 with the participation of Mercedes-Benz engineers took place in the research center "Nürburgring" - one of the most famous racing circuits in the world. This led to the fact that even before the appearance of these UHP-tires in the retail network, they have already been homologated by the German automobile concern for a number of models.
The basis of ADVAN Sport V105 tires is the experience, implemented in the previous model. The composition of the rubber mixture, internal construction, and tread pattern has been improved.
To improve accuracy and reduce response time to steering wheel turns, the model received a new internal structure called Matrix Rayon Body Ply, borrowed from Yokohama tires participating in various races of world motorsports. This bent at a certain angle carcass is turned out to the inner side of ADVAN Sport V105 tread, which significantly increased circumferential stiffness of the tire, due to what, actually, the responsiveness to the slightest actions of the driver was increased.
In this article, we use data collected from numerous daily driver reviews and professional automotive journalists' road tests. This guide shows computed data charts and information about ADVAN Sport V105 performance in different road conditions.
ADVAN Sport V105 scores:
Tire scores charts by drivers' reviews:
Overall:
84.3%
Overall Dry:
87.7%
Corner Stability:
87%
Dry Traction:
91%
Steering Response:
85%
Overall Wet:
84.5%
Aquaplanning:
61%
Wet Traction:
84.5%
Overall Comfort:
81%
Ride Comfort:
68%
Overall Noise:
65%
Wear:
77%
Buy again:
84.5%
Tire scores charts by road tests:
Overall:
45%
Dry Braking:
47%
Dry Handling:
60%
Wet Braking:
37%
Wet Handling:
70%
Straight Aquaplaning:
80%
Inside Noise level:
20%
Rolling Resistance:
10%
Price:
50%
Yokohama ADVAN Sport V105 test results:
2020 Auto Bild UHP 19 inch tire Test
Overall: 7th of 10
Dry Braking: 8th of 10
Dry Handling: 5th of 10
Wet Braking: 8th of 10
Wet Handling: 4th of 10
Straight Aquaplaning: 3rd of 10
Inside Noise level: 9th of 10
Rolling Resistance: 10th of 10
Price: 6th of 10
2020 tire Market Overview Braking Test
Overall: 26th of 50
Dry Braking: 19th of 50
Wet Braking: 29th of 50
Tire related video:
References:
Yokohama website