---
The Yokohama BluEarth Winter V905 is a high-quality winter tire designed specifically for the European market. Created by Japanese engineers, these tires were first introduced on the market in the winter season of 2017/2018 and are suitable for both passenger vehicles and off-road vehicles. They are designed for daily use and have gained popularity in the United States as well due to their excellent performance and commitment to meeting strict ecological standards.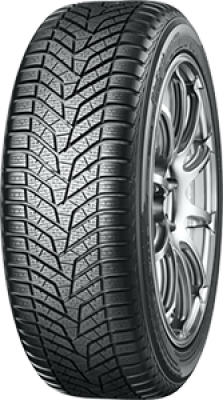 One of the standout features of the BluEarth Winter V905 is its commitment to meeting the strictest ecological standards set by the European Union and the United States. This is achieved through the use of innovative proprietary technologies, including a unique tire compound that helps to reduce rolling resistance and improve fuel efficiency. The tire compound used in the BluEarth Winter V905 is a special blend of natural and synthetic rubber that provides excellent grip on winter roads while also being durable and long-lasting.
The tread pattern for these winter tires is based on the highly regarded Yokohama W.drive V905, which received high marks from independent experts at the German car club ADAC in 2015. The tread design of the BluEarth Winter V905 features a series of large, deep grooves and siping, which help to evacuate water and slush from the contact patch to improve wet and slushy traction. The use of tried-and-true design and technologies from the BluEarth family of tires has resulted in the BluEarth Winter V905 offering excellent performance and stability on a variety of road conditions, including snow, ice, wet, and dry. These tires also have a high level of energy efficiency.
In this article, we have compiled data and information from multiple sources, including daily drivers and professional automotive journalists, to provide a comprehensive look at the performance of the BluEarth Winter V905 on different road conditions. Our guide includes charts and data to help you understand the capabilities of these tires.
In this article, we use data collected from numerous daily driver reviews and professional automotive journalists' road tests. This guide shows computed data charts and information about BluEarth Winter V905 performance in different road conditions.
BluEarth Winter V905 scores:
Tire scores charts by drivers' reviews:
Overall:
92.2%
Overall Dry:
91.2%
Corner Stability:
92%
Dry Traction:
91.5%
Steering Response:
90%
Overall Wet:
92.5%
Aquaplanning:
48%
Wet Traction:
92.5%
Overall Snow:
97.5%
Light Snow:
39%
Heavy Snow:
33%
Ice:
89.5%
Overall Comfort:
90.5%
Ride Comfort:
63%
Overall Noise:
62%
Wear:
89%
Buy again:
97%
Tire scores charts by road tests:
Overall:
41.66%
Dry Braking:
59.17%
Dry Handling:
71.25%
Subj. Dry Handling:
71.25%
Wet Braking:
65.42%
Wet Handling:
55%
Subj. Wet Handling:
100%
Side G-Force on Wet surface:
75%
Straight Aquaplaning:
46.67%
Curved Aquaplaning:
75%
Snow Braking:
33.53%
Snow Handling:
29.38%
Subj. Snow Handling:
40%
Snow Traction:
66.88%
Ice Braking:
51.88%
Ice Handling:
93.75%
Ice Traction:
20%
Inside Noise level:
52.5%
Outdside Noise:
75%
Subjective Comfort:
70%
Rolling Resistance:
50.42%
Price:
55%
Wear:
66.25%
Yokohama BluEarth Winter V905 test results:
2019 Auto Bild Winter 17 inch tire Test
Overall: 14th of 20
Dry Braking: 12th of 20
Dry Handling: 5th of 20
Wet Braking: 14th of 20
Wet Handling: 14th of 20
Straight Aquaplaning: 20th of 20
Snow Braking: 19th of 20
Snow Handling: 18th of 20
Inside Noise level: 15th of 20
Rolling Resistance: 9th of 20
Price: 10th of 20
Wear: 12th of 20
2019 Auto Center Winter tire Test
Overall: 8th of 10
Dry Braking: 4th of 10
Subj. Dry Handling: 3rd of 10
Wet Braking: 3rd of 10
Subj. Wet Handling: 1st of 10
Straight Aquaplaning: 5th of 10
Snow Braking: 9th of 10
Subj. Snow Handling: 7th of 10
Snow Traction: 2nd of 10
Ice Braking: 10th of 10
Ice Traction: 9th of 10
Subjective Comfort: 4th of 10
Rolling Resistance: 10th of 10
2019 Winter tire Test Market Overview
Overall: 20th of 53
Wet Braking: 16th of 53
Snow Braking: 22nd of 53
2018 ADAC Winter tire Test - 205/55 R16
Overall: 11th of 16
Dry Braking: 7th of 16
Dry Handling: 7th of 16
Subj. Dry Handling: 7th of 16
Wet Braking: 5th of 16
Wet Handling: 5th of 16
Side G-Force on Wet surface: 5th of 16
Straight Aquaplaning: 5th of 16
Curved Aquaplaning: 5th of 16
Snow Braking: 10th of 16
Snow Handling: 10th of 16
Snow Traction: 10th of 16
Ice Braking: 2nd of 16
Ice Handling: 2nd of 16
Inside Noise level: 5th of 16
Outdside Noise: 5th of 16
Rolling Resistance: 4th of 16
Wear: 3rd of 16
2018 51 Winter tire Shootout
Overall: 20th of 51
Wet Braking: 28th of 51
Wet Handling: 28th of 51
Side G-Force on Wet surface: 28th of 51
Straight Aquaplaning: 28th of 51
Curved Aquaplaning: 28th of 51
Snow Braking: 5th of 51
Snow Handling: 5th of 51
Snow Traction: 5th of 51
Tire related video:
References: